Indians love Bollywood. In fact, we're the world's largest movie-watching audience. In 2016, 2.2 billion movie tickets were sold across India, second only to China's 1.25 billion. And politicians are well aware of this power of cinema, which is an important political tool for them. For decades, political parties have been cashing on the entertainment industry with a host of political movies, biopics of political leaders, photo-ops with movie stars etc. Unlike other political tools, movies ensure deep reach to the major population in India – from the rich to poor, educated to illiterate.
Here's how Bollywood helps political parties in winning elections: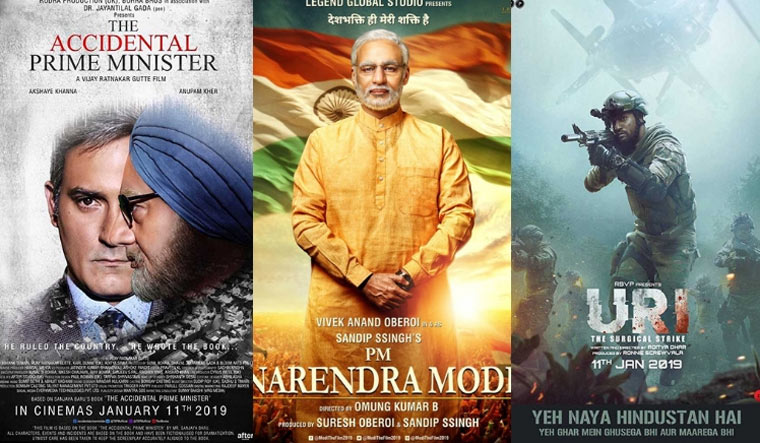 Release Date: Before Elections 2019
The trend of movies with a political slant isn't new. Back in 2017, a movie called 'Modi Ka Gaon' was released just before the Gujarat elections in December. Another feature film called Lal Sarkar unveiling the alleged wrongdoings of the Left-ruled government too was released just before the elections in Tripura. The Communist Party (Marxist) had claimed that it was planted by the BJP. In fact, one of the songs in the film was sung by a BJP MP, Babul Supriyo.
What's made it the talk of the town is the overwhelming number of it just ahead of the elections. Starting from December 2018, various political movies and biopics were released one after the other – in quick succession. From The Accidental Prime Minister to Uri and from Narendra Modi to Thackeray – it's literally raining biopics in Bollywood. PM Modi went a step ahead too. Less than a month ahead of the Lok Sabha elections, Eros Now released a web series which traverses the journey of Modi's life, from his childhood to political career.

Written and Directed by 'Bhakts'

Experts and film critics say that it's hard to paint an imperfect image of the subject in a biopic, especially if they are public figures and in this day and age of mobile policing and mob censure. And not when they are directed, produced and written by people associated with such political parties and have vested interest in it – either directly or indirectly. Take The Accidental Prime Minister for example. The biopic of one of the longest-serving Prime Minister – Dr. Manmohan Singh becomes a well-timed attack on the Gandhi family and portrays how Singh became a victim of the Congress. Here's how the bias seeps in. The director of the biopic Vijay Gutte is the son of the leader of the BJP member – Ratnakar Gutte. In fact, in what was pretty unusual, BJP's official Twitter handle seemed to be promoting the film. The tweet read 'It's a riveting tale of how a family held the country to ransom for 10 long years.'  Netizens quickly smelled propaganda and questioned as to why a national party was sharing Bollywood trailer. Twitterati was quick to even ask when was the last time the party's official twitter handle shared a movie trailer?
Same was the case for the movie Thackrey, which is a biopic on the founder of Shiv Sena – Balasaheb Thackey. The party's leader and a Rajya Sabha MP – Sanjay Raut – is the writer and the producer of the biopic. Film critic, Shubhra Gupta says that these movies become nothing short of propaganda as in every political movie a specific party or ideology becomes a hero while the opposition becomes the villain.
Over the years, there have also been movies in which government schemes and names of political leaders pop up throught subtle yet well-planted dialogues.
For instance, in the movie Half Girlfriend the lead character Madhav praises the PM's Beti Bachao, Beti Padho Yojana. In the film Dishoom too the main lead says "Naukri karta hoon inki, sunta hoon Modi-ji ki."
Then there are dialogues which are intended to arouse hyper-nationalism amongst citizens. Uri, the film based on surgical strikes under the Modi government, is an apt example. "Yeh naya Hindustan hai, yeh ghar mein ghusega bhi, aur marega bhi," "How's the josh?" or "Waqt aa gaya hai, khoon ka badla khoon se lene ka,"
The dialogue – "How's the josh", especially became quite a hit among people. Politicians ensured the impact doesn't die by repeating this line again and again – during rallies, inaugurations, speeches etc.
Starring: Poster Boys of Nationalism
Bollywood actors and actresses have a significant impact on the people in India. And politicians are increasingly banking on them influence the voters. And sure, PM Modi has made solid fans in the Bollywood industry, who's actions clearly reflect their political inclinations.
One of them being the khiladi of Bollywood. Since 2014, Akshay Kumar has jumped on the patriotism bandwagon. Airlift, Rustom, Baby, Holiday, Gabbar etc are some examples. An article in DailyO states that his recent choices of films are speaking volumes of his political opinions. However, his love for the ruling party reached a peak with the release of Toilet: Ek Prem Katha, a based on the government' flagship programme Swachh Bharat. In fact, this was the first movie which was made tax free under the new GST regime in all BJP run states. During promoting his movie Padman in a women's marathon event, the actor was seen waving a RSS flag. Ironic much? – Promoting a movie on women empowerment and tax-free sanitary pads with the flag of an organisation which gives rape threats to women.
It's also claimed that Amitabh Bachchan a.k.a. Big B had quite much helped in boosting Modi's popularity across India. After winning the Gujarat Assembly Elections in 2007, PM Modi started focusing on building his image as a Prime Ministerial candidate. That's when he brought Big B into the play. In 2009, Bachchan became the brand ambassador of the 71 crore 'Khushboo Gujarat Ki' campaign to promote tourism in the state.
Baradwaj Rangan, a film critic, in a Newslaundry article says that biopics often do not cast star celebrities like Shah Rukh Khan or Salman Khan. That's because the film is about the subject, not the actor.
"If Shah Rukh had been cast as Modi, people would come to see Shah Rukh to the theatre, not Modi. Thackeray is not meant for Nawazuddin fans but for Thackeray fans." 
Filmmakers like Prakash Jha have stated that biopics do not influence voters and will now no impact on the upcoming elections. However, it should be noted that films as a visual medium do leave a powerful impact on its audience – national and international. There's a per cent of the population – who might be unaware of these films being a propaganda stunt and vote-seeking tools – and may cast a vote simply thinking these films to be a reality. While for some these might be just three hours of entertainment, for some these might be a key to influence their political decisions.
Biopics, Photo-Ops And Paparazzi: A Politician's Ticket To Winning Elections
was last modified:
April 5th, 2019
by